Canadian Nicholas Latifi 7th in the streets of Macau, Max Verstappen crashes
From press release
Canadian Nicholas Latifi finished seventh in the qualification race for this week-end's Macau Grand Prix.
Latifi started the race in ninth position but made good progress to claim seventh, which he then lost in a good battle with Jordan King.
Then, F1 rising star Max Verstappen crashed, bringing out the safety car. At the restart, Latifi was able to get seventh place back.
"I got through cleanly on the first lap and pretty much maintained my position," said Latifi. "The main thing was to get through cleanly.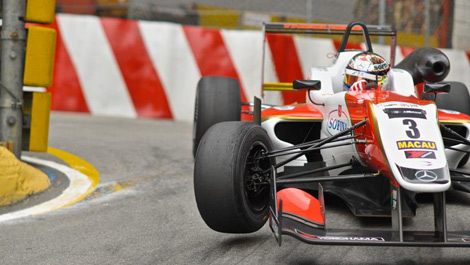 Nicholas Latifi (Photo: Theodore Racing)
"The pace felt quite good at the beginning of the race, I think I just didn't have the speed on the straight compared to the others around me.
"I felt strong in the middle sector but I think I had maybe too much tyre degradation. The main thing was to not make mistakes, and seventh is a pretty good place to start tomorrow."
Esteban Ocon, the FIA Formula 3 European champion, lost one position away from the start and dropped to fifth. But the Frenchman then moved up to fourth by the race's end.
No tags for this post.