Citroën confirms Muller Lopez and Loeb's return ahead of 2015 WTCC season
From press release
José María López, Yvan Muller and Sébastien Loeb will be back next year to drive for Citroën Racing in the 2015 World Touring Car Championship (WTCC).
As a rookie team, Citroën clinched the manufacturers' title last year, and is set for a 1-2-3 in the drivers' standings, led by López, who won the championship earlier this season at Suzuka.
"Since we absolutely wanted to have them all back, and they didn't feel like going anywhere else, it was a pretty straightforward negotiation process," admits team boss Yves Matton.
"This year, López ran a perfect season and paved the way to a new generation of drivers. He will however have to defend his title now, against highly motivated opponents, starting with his own teammates," added Matton.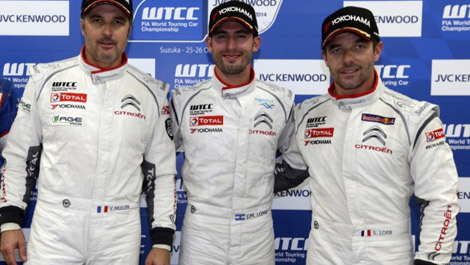 José María López, Yvan Muller and Sébastien Loeb (Photo: Citroën)
"Despite total commitment, Muller had a disappointing season but he can't wait for the clock to be reset. And Loeb, after scoring his first wins this year wants to improve."
Furthermore, in addition to the three official cars entered by Citroën, Sébastien Loeb Racing will run a pair of private C-Elysée, next year in the WTCC.
"Having made its mark of GT and prototype racing, it was time for SLR to step up to the next level, explains the team's eponymous founder Sébastien Loeb.
"It was not a hard decision to make. Since the addition of the new TC1 class, this championship has been attracting more and more interest. It's only good that SLR is part of it."
No tags for this post.