Dakar: Nasser Al-Attiyah retakes control of the race
Qatari driver Nasser Al-Attiyah (MINI) regained the lead of the Dakar Rally, less than 24 hours after losing it with a time penalty on Day 1.
Day 2 started with Orlando Terranova (MINI) in the lead of the race, and American Robbie Gordon in second, but the American had trouble early on in Stage 2, leaving Giniel De Villiers (Toyota) to duke it out with the Argentine racer.
However, Terranova demonstrated just how easy it is to lose time on the Dakar, when he went off track, rolling several times. The incident cost him twenty minutes just as he was near the end of the stage.
De Villiers is now lying eight minutes behind in second place.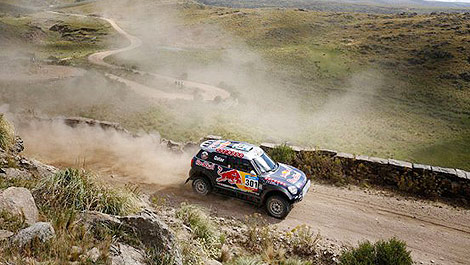 Nasser Al Attiyah, MINI. (Photo: Dakar.com)
Spaniard Carlos Sainz from Team Peugeot struggled with the extreme heat, but after starting eighth overnight managed to finish seventh in the stage and sixth in the overall rankings, despite colliding with a biker.
STANDINGS - Day 2

• Nasser Al-Attiyah, MINI  6h19:40
• Giniel De Villiers, Toyota  +7m42
• Ten Brinke, Toyota  +9m42
• Krzysztof Holowczyc, MINI  +10m28
• Vladimir Vasilyev, MINI  +17m23
No tags for this post.