Endurance: Jordan Taylor sets fastest time in Daytona 24 practice
From press release
Jordan Taylor ran the fastest lap of the three-day Daytona 24 test, going 1m39.181 in Wayne Taylor Racing's No. 10 Konica Minolta Corvette DP shared by his brother Ricky Taylor and Max Angelelli to lead the Prototype (P) class.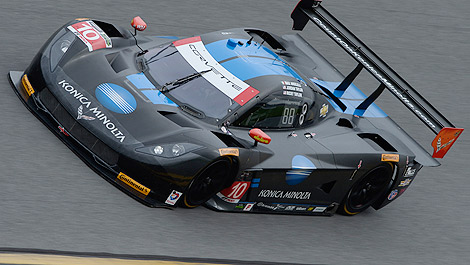 Jordan Taylor, Corvette DP Konica Minolta. (Photo: IMSA)
Dans les autres catégories, on note le meilleur temps de Colin Braun, en Other class leaders were Colin Braun, Prototype Challenge (PC), running 1:41.769 in the No. 54 CORE Autosport ORECA FLM09; Earl Bamber, GT Le Mans (GTLM), 1:44.316 in the No. 912 Porsche North America Porsche 911 RSR; and Marc Goossens in GT Daytona (GTD), 1:46.948 in the No. 33 TI Automotive / ViperExchange.com Dodge Viper SRT GT3-R.
The test was held in preparation for the 2015 TUDOR United SportsCar Championship season-opening Rolex 24 At Daytona on Jan. 24-25.
No tags for this post.