Endurance: Toyota wins WEC drivers' title in Bahrain
From WEC
Toyota celebrated both success in the FIA World Endurance Drivers' Championship and winning the 6 Hours of Bahrain race today.
After a difficult race that saw the No. 8 Toyota TS040 spend 16 laps in the garage to change an alternator, Anthony Davidson and Sebastien Buemi took the chequered flag in 11th overall to clinch the FIA World Endurance Driver's Championship.
The sister crew of Alex Wurz, Stephane Sarrazin and Mike Conway claimed their first race win of the 2014 season after a flawless performance in the day/night spectacular in the desert.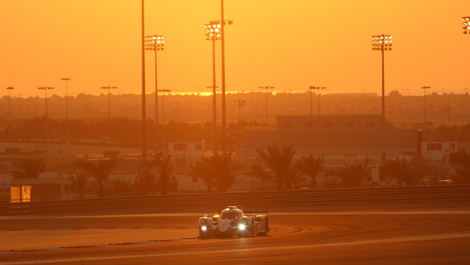 Despite not scoring, Buemi and Davidson clinched the title in Bahrain (Photo: WRI2)
Filling out the podium at Bahrain were both Porsche 919 Hybrid entries with the No. 14 car of Marc Lieb, Neel Jani and Romain Dumas just heading home the No. 20 entry of Mark Webber, Brendon Hartley and Timo Bernhard.
Starting from pole, the No. 14 Porsche kept Sebastien Buemi at bay for several laps before losing out as the Toyota swept into the lead. However the pace of the two 919s were to be reckoned with throughout the race, with both cars leading during the 6 Hours of Bahrain. The German team were rewarded with their best result of the 2014 season.
The two Audi R18 e-tron quattros were 4th and 5th, with the No. 2 Audi of Fassler / Lotterer/ Treluyer finished one lap behind the winning Toyota and one lap ahead of the no1 R18 of Kristensen/ Di Grassi / Duval. The 22 championship points has kept Audi's slim world championship hopes alive for the final race in Brazil in two week's time.
No tags for this post.