F1: 1000bhp turbo engines possible for 2017
Formula 1 engine suppliers Tuesday met in Geneva to discuss Bernie Ecclestone's idea to change the engine formula for the near future.
Ecclestone's proposal is to significantly increase engine power to make the cars much more difficult to drive and become more spectacular, therefore more attractive to fans.
British magazine
Autosport
reports that the talks between the Power Unit Working Group and the FIA were constructive, although it is unlikely that any of the changes being talked about will come in to force until 2017.
The magazine adds that the engine chiefs believe that 1000bhp target could be achieved without the need for a total redesign of the current 1.6-litre turbo hybrid V6 Power Units.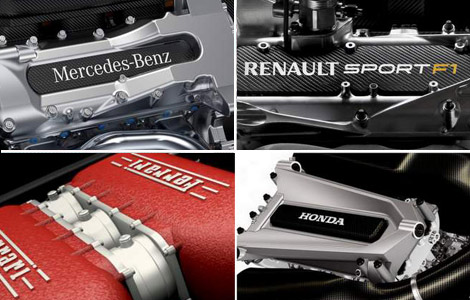 The four engine makers in Formula 1 - Mercedes, Renault, Ferrari and Honda. (Photos from the constructors)
The engineers of Ferrari, Renault and Mercedes thinks that increasing the fuel flow rate, the revs of the engine and the maximum fuel allowance would be sufficient for the current engines to reach the 1000bhp mark.
It is understood that modifications to the Power Units are also likely to go hand-in-hand with adjustments to F1's car regulations to make the cars faster and harder to drive. Such changes would include an increase in downforce, bigger tires and a more aggressive look.
The engine chiefs also discussed ideas to reduce costs such as a standardisation of many of the ancillaries surrounding the current engine - such as the energy recovery systems, batteries, turbos and exhausts.
All these proposals will be put forward for further discussion by F1's technical directors later this month, and will also be tabled at the next meeting of the Strategy Group.
No tags for this post.