F1: Bernie Ecclestone to clamp down on online media in paddock
From GMM
Bernie Ecclestone has vowed to clamp down on the proliferation of internet journalists in F1.
After controversially rubbishing the power of social media platforms like Facebook and Twitter last week, the F1 supremo is now warning that online publications will find access to the paddock more difficult in the future.
He told F1 business journalist Christian Sylt: "Choose your race for free, enter the paddock, meet the drivers. How do you do it? Set up a website.
"I'm going to have a good look at the accreditation because it is a bit of a joke," 84-year-old Ecclestone added.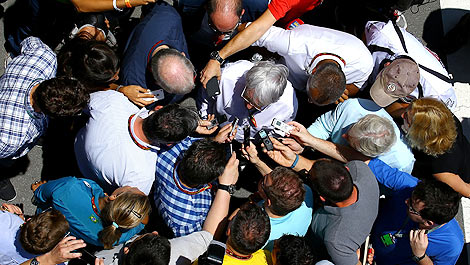 Bernie Ecclestone surrounded by journalists in Brazil. (Photo: WRi2)
Meanwhile, amid Marussia and Caterham's troubles and with other small teams demanding talks with Ecclestone, the diminutive Briton sounds determined to plough ahead with plans to introduce third cars per team.
"We are talking about all the different options with third cars," he told
City A.M.
"The contracts just say they have to run a third car if it drops below the limit. We are talking about what the right way is to go," Bernie Ecclestone added.
No tags for this post.