F1: Carlos Sainz Jr impressed by the Red Bull-Renault RB10
The youngest man to win the drivers' crown in Formula Renault 3.5 Series, Carlos Sainz Jr, drove the Red Bull-Renault RB10 earlier this week during the final in-season test at the Yas Marina circuit in Abu Dhabi.
The son of former FIA World Rally Champion, Carlos Sainz is a member of the Red Bull Young driver programme.
As a prize for winning the Formula Renault title, the young Spaniard was invited to driver the RB10.
And which was the greater celebration of that championship? His private celebration of the title, or the post-season Formula 1 test?
"It's difficult to judge," Sainz Jr told the
FIA.com
website.
"There are more emotions going on when you win a title like [Formula Renault] 3.5, but I've probably enjoyed the whole day here more. The RB10 is one of the best cars out there on track, so to be able to drive it - to do more than 100 laps in it - is simply amazing."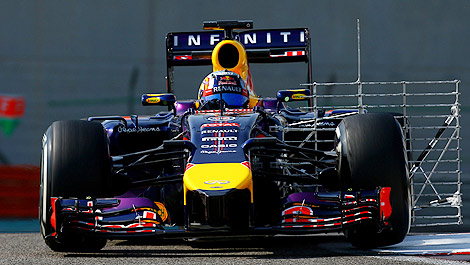 Carlos Sainz Jr aboard the Red Bull RB10-Renault in Abu Dhabi. (Photo: WRi2)
Sainz was uniquely positioned to comment on the changes in downforce that resulted from the 2014 regulation changes - having driven the RB9 during the Silverstone test in 2013, Sainz Jr had not been behind the wheel of a Red Bull F1 car since, until he took to the track in Abu Dhabi.
With the memory of that experience, how did the RB10 feel at the end of its development curve, when the team had reclaimed as much of that lost downforce as possible over the course of the 2014 season?
"Obviously there was a big change [between the RB9 and RB10]; I could feel it particularly on power, on the exit of corners, in the torque," Sainz Jr explained.
"I was surprised by it, as already last year's car had a good amount of power. Apart from that, everyone was speaking a lot about the car not having much downforce, but I thought the car felt great, actually. For me the car feels really, really good. It was a pleasure to drive it."
Having spent more than a year away from an F1 cockpit - a year in which everything from the power delivery to the braking has changed - how does a driver adjust to unfamiliar machinery?
"I took my time [at the start of the day] to build up my confidence," he explained. "Obviously there was a long day ahead, so I took my time and little by little I upped the pace. I had no issues at all, I didn't make any big mistakes, and I'm happy with that."
Monday of next week, Red Bull should announce that Sainz Jr becomes a race driver at Toro Rosso F1 for 2015.
No tags for this post.