F1: David Coulthard worried about lack of experience of new Toro Rosso drivers
Former Grand Prix winner David Coulthard admitted to be worried about the lack of experience of the two new Toro Rosso Formula 1 drivers.
Coulthard, the winner of 13 F1 races with Williams and McLaren between 1995 and 2003, fears Toro Rosso's engineering team will lack direction this season since rookies Max Verstappen and Carlos Sainz have no F1 experience.
Let's keep in mind that Verstappen only contested 47 car races so far in his career (Formula 4s and Formula 3s).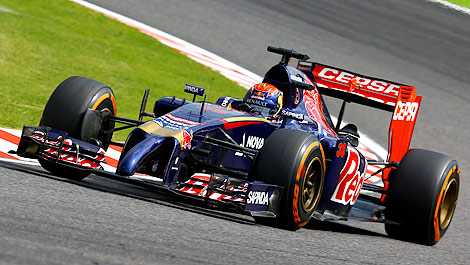 Max Verstappen, Toro Rosso. (Photo: WRi2)
While he recognises it is Toro Rosso's policy of promoting young talent, Coulthard fears there could be a high price to pay.
"The engineers and designers have to go with what they believe is the best package to develop the car, but you need leadership from behind the wheel," the Scot told
Sky Sports Online
.
"You need a great interaction between the driver and the aerodynamicist or the chief mechanical engineer and that interaction is so important. In the respect of young drivers without the experience, they have to get the experience somewhere, but a better pairing in many respects would be one experienced and one rookie. But that is the format for Toro Rosso, it is a proving ground for young drivers and if they do well then they can move up to the next level."
Coulthard thinks the Italian team will have to modify its engineering debriefings this season to get the correct information from the two rookies.
"They've got to run a slightly different format of debriefs and understanding and educating the drivers," Coulthard added.
"With the benefit of experience you hone in on what they key area of development needs to be - what is it that is making it difficult for you to go faster? It seems like a simple thing to ask, but actually separating aerodynamic from mechanical is such a difficult thing to do at times," the Scot explained.
No tags for this post.