F1: Day 1 of final test of 2014 Formula 1 season in Abu Dhabi
Day 1 of final test of 2014 Formula 1 season in Abu Dhabi saw Valtteri Bottas set the fastest time of the day in the Mercedes-powered Williams.
The big news came from McLaren, which put its interim MP4-29 Honda to the test, but completed minimal running due to a lack of reliability.
An electronics issue meant the car spent the morning in the garage, but it broke cover soon after lunch, with test and development driver Stoffel Vandoorne conducting a number of exploratory installation runs throughout the afternoon.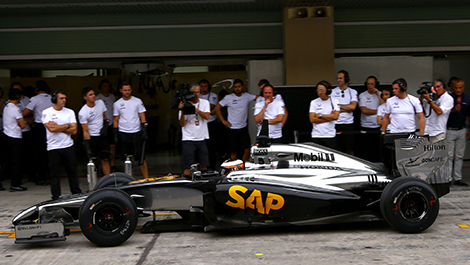 Stoffel Vandoorne, McLaren-Honda. (Photo: WRi2)
The Belgian was halted on a couple of occasions by a fuel/data exchange issue - the second of which left him stranded on the circuit, causing a red flag.
Nonetheless, the first day of running was positive, as it's enabled the team to begin its trouble-shooting programme well ahead of the first test of 2015, which takes place at Jerez in early February.
Kimi Raikkonen set the second fastest time at the wheel of the F14 T, but all eyes were on the back of the garage after Sebastian Vettel made an appearance at his new team.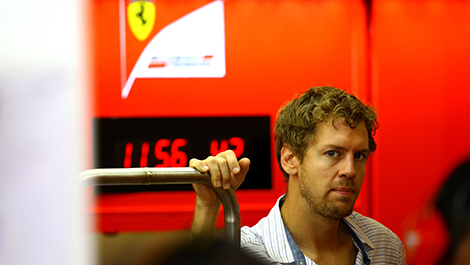 Sebastian Vettel with Ferrari. (Photo: WRi2)
The German made the most of the opportunity to familiarise himself with his new colleagues, whilst also listening in on the radio as he prepares for his new life in 2015.
Nico Rosberg was third in the Mercedes W05 ahead of GP2 champion Jolyon Palmer who got his first experience of an F1 car, driving the Force India. Like Vandoorne, reliability issues also limited his running.
Carlos Sainz Junor was fifth in the Red Bull RB10, ahead of the surprising Will Stevens in the Caterham and Charles Pic in the Lotus.
Max Verstappen gained more valuable mileage in the Toro Rosso, but the 17-year-old planted his STR9 in the barriers.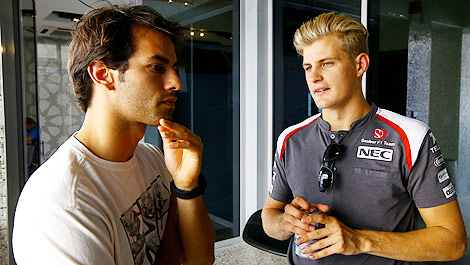 Felipe Nasr and Marcus Ericsson, teammates at Sauber in 2015. (Photo: WRi2)
Day 1 times:
1 Valtteri Bottas  Williams   1m43.396  80 laps
2 Kimi Raikkonen  Ferrari  1m43.888   81 laps
3 Nico Rosberg  Mercedes  1m44.512  114 laps
4 Jolyon Palmer   Sahara Force India  1m44.516  37 laps
5 Carlos Sainz Jr  Red Bull  1m45.339  100 laps
6 Will Stevens  Caterham  1m45.436  102 laps
7 Charles Pic   Lotus  1m46.167  89 laps
8 Marcus Ericsson   Sauber  1m46.253  95 laps
9 Max Verstappen  Toro Rosso   1m47.194  55 laps
10 Stoffel Vandoorne   McLaren  No time  3 laps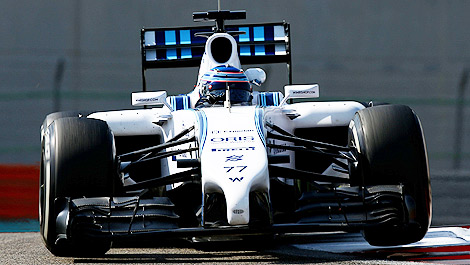 Valtteri Bottas, Williams FW36-Mercedes. (Photo: WRi2)
No tags for this post.