F1: Esteban Gutierrez visits Ferrari in Maranello
Twenty-three-year-old Mexican Esteban Gutierrez recently paid visit to his new team Ferrari in Maranello.
After two full seasons in Formula 1 and 38 Grands Prix with Sauber, six world championship points and one fastest race lap to his name, Gutierrez decided to leave the Swiss team.
Today, the Mexican from Monterrey has got an opportunity to start over as the third and reserve driver with Ferrari.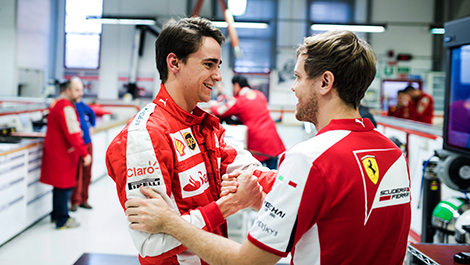 Esteban Guttierrez and Sebastian Vettel, Ferrari, at Maranello. (Photo: Ferrari)
Esteban's career as a "ferrarista" has already begun, as he has met the personnel and had the necessary seat fittings. On the engine side, he already knows what to expect, because the Saubers he raced were Ferrari-powered.
"Now, the important thing for me is to adapt and to settle in to this new environment as quickly as possible," he explains.
"I need to get to know the people I will be working with and I hope that my experience with the Ferrari engine will mean I can contribute to the development of the new power unit."
During his visit of the Ferrari factory, Gutierrez met four-time World Champion and also new Ferrari driver, Sebastian Vettel.
No tags for this post.