F1: Jenson Button says he will do something "exciting" next year
The only thing Jenson Button can be sure of regarding is future, is that he will be doing something "exciting" next year.
It is understood the 2007 world champion will have to leave McLaren at the end of the current season to make room for Fernando Alonso. But until Alonso's pending departure from Ferrari is confirmed, Button cannot be sure.
So far, the Brit has also been linked to a move to endurance racing.
"One thing is for sure," he is quoted as saying by
Formula1.com.

"Whatever I do, it will be exciting. I want to win races and fight for the championship. If I am not able to do that I'd rather be somewhere else, with a new challenge. Whether that is in motorsport or in triathlon or in another sport, I don't know.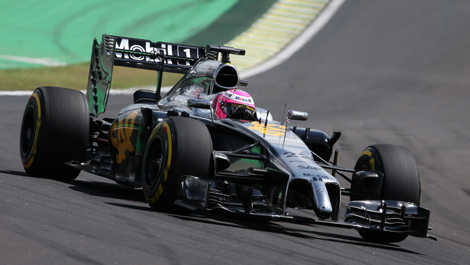 Jenson Button, McLaren MP4-29 (Photo: WRI2)
"I've been here now for 15 years and it maybe takes someone to ask you whether you will be here next year for you to open your eyes. And that I have done! So whatever happens happens."
This season, of course, only two drivers have been able to consistently fight for victory: Mercedes drivers Lewis Hamilton and Nico Rosberg. The two men are still locked in their season-long battle for the title, which they are now taking to Abu Dhabi.
For the sake of the sport, Button only hopes "the guy who does the best job of the circuits" wins.
"I hope (the title fight) does not come down to reliability issues. That is always the scary thing," he said.
"Lewis is in the lead right now. He's done a very good job. If he loses it's hopefully because Nico has done a better job and not because of other issues."
No tags for this post.