F1: Lewis Hamilton close to securing a new deal with Mercedes
Adapted from GMM
British media sources are reporting that Hamilton is close to securing a new $30 million per season deal with Mercedes that could keep him at the team until 2020.
Already with a contract for 2015, the dotted line may go unsigned until he has appointed a new management team in the coming months, but he told reporters on Monday that the 2016 contract is "a formality".
"I haven't made any decisions of how you go about it, but I currently have a great contract. Ultimately I think not a huge amount will change," said Lewis Hamilton.
On Monday, it also seemed as though team boss Toto Wolff was not ready to negotiate the new deal anyway, having partied deep into Sunday night.
"Definitely for me it (negotiate a contract) would not be the best thing for me to do," the Austrian joked, while Hamilton revealed that he drank mainly watermelon juice to celebrate his title.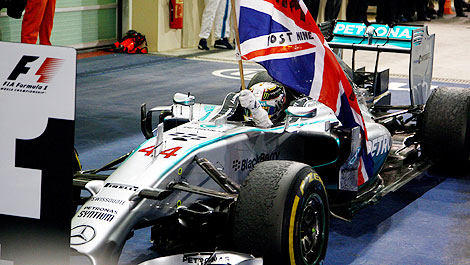 Lewis Hamilton, Mercedes AMG, World Champion 2014. (Photo: WRi2)
No tags for this post.