F1: Malaysian Grand Prix to start earlier
As a safety precaution following Jules Bianchi's crash in Japan, the Malaysian Grand Prix will start earlier at Sepang.
The Marussia's driver Jules Bianchi remains in hospital in a critical condition after his collision in Japan in fading light and heavy rain.
During the contract renewal talks between Bernie Ecclestone and Razlan Razali, a discussion pointed to a race starting at 3:00pm local time, to avoid the tropical downpours.
"Mr Ecclestone mentioned that because of the Suzuka incident the FIA has some time limit," said the Sepang circuit boss at
Reuters
. "So he is reviewing to move the start to the original time, maybe this year.
"For us it's good. It's a safer time bracket... so now people can come in for lunch, watch the race and about five o'clock they can go back (home). He (Ecclestone) mentioned the possibility (of an earlier start). We said if you want to go back to three PM, we fully support it," added Razlan Razali.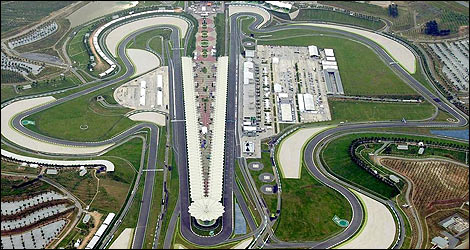 Aerial view of Sepang track, Malaysia.
The possibility of hosting a night race, like in Singapore, has also been discussed but the promoter are not ready for that.
"It's a danger to force us to do it. In the past he (Ecclestone) was pushing but now I think it's the first time where he actually listened to us as a promoter what we want. At the moment (we don't want it). Every circuit has its own identity, the danger is to copy someone else," said the track boss.
Despite the popular success of the Singapore floodlit street circuit, Malaysia has a positive economic impact, promoting the country as a global destination.
"They (Singapore) have an edge because they are in the city and it looks really nice on TV, it's cooler but I still think Sepang offers better racing," he added.
Razlan Razali defined the talks with Bernie Ecclestone as "very positive" and expected a multi-year extension to be announced soon.
Although MotoGP has provided better value for spectators and attracted bigger crowds to Sepang for the past five years than Formula 1.
Regarding the new quieter power units, the Malaysian said: "We were concerned after the feedback from Australia. Very concerned. When it finally came to Malaysia, I didn't like it. It was simply too quiet. But what I noticed in the grandstands is that you get families with kids watching and enjoying Formula 1 better. I can remember in the past where a dad would put headphones on the kid and hold it. Or a kid would be too scared and start crying, wanting to go home. I think it attracts a new breed of fanbase now. And that's what you want."
No tags for this post.