F1: McLaren confirms to run interim Honda car on Friday
McLaren Formula 1 team will debut its Honda powered interim car during a filming day at Silverstone on Friday.
Just a few days ago, McLaren's director of racing, Eric Boullier, told
Auto123.com
: "We are still talking about it. We have to take a decision about now".
A message sent on Twitter by McLaren Thursday confirms that the British team based in Woking would run "the interim Honda-engined MP4-29H/1X1" at Silverstone tomorrow.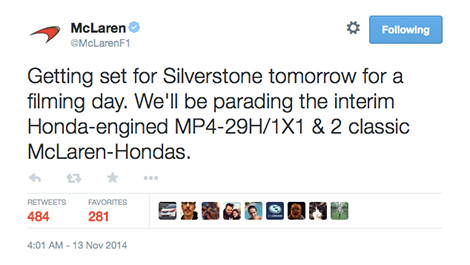 McLaren's message on Twitter
Next year's car will be code named MP4-30/Honda.
The running will be limited to just 100km due to the Sporting Regulations. The car will also need to be fitted on Pirelli demonstration tires.
"This car is designed to validate the processes for Honda, which is something fairly major," Boullier told Auto123.com.
Neither race driver (Jenson Button and Kevin Magnussen) will take part with the driving shared between test driver Oliver Turvey and GP2 series' competitor, Stoffel Vandoorne.
The team will also run two classic McLaren Hondas, the MP4/4 of 1988 and the MP4/7 of 1992 at Silverstone alongside their interim car.
No tags for this post.