F1: Nico Rosberg slashes Hamilton's lead in the championship with Brazil win (+photos)
From press release
Nico Rosberg reduced Lewis Hamilton's lead in the drivers' championship to 17 points with one race to go before the end of the season, Sunday, by winning the Brazilian Grand Prix.
Rosberg, who started from pole, led throughout the race without any mistake, despite Hamilton's pressure, to score his fifth win of the season.
Hamilton, on the other hand, made a mistake during his second stint. He spun while trying to catch Rosberg. The Brit was able to carry one, but lost around seven seconds.
His run of consecutive victories therefore ended at five, while Rosberg celebrated his first win since the German Grand Prix back in July.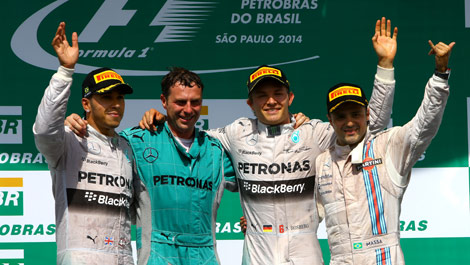 (Photo: WRI2)
"I had to learn from Austin, which was a big disappointment, and I think I achieved that," said Rosberg after crossing the finish line.
"I was able to control the pace a bit better and didn't let Lewis come too close. He drove really well and was always right there pushing me.
"When he spun I had a bit of time to relax and was able to save some life in the tyres for the end of the stint. That worked out perfectly and it was a great day with another one-two for the team."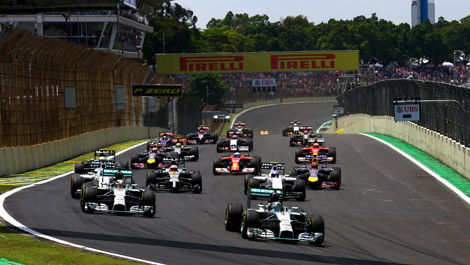 (Photo: WRI2)
Even though Rosberg reduced Hamilton's lead, winning the last race of the season in Abu Dhabi will not be enough to clinch the title if Hamilton finishes second again.
"I'm still believing 100% that I can make it but, of course, I will need some help from Felipe (Massa) or Valtteri (Bottas) or Lewis himself," the German admitted.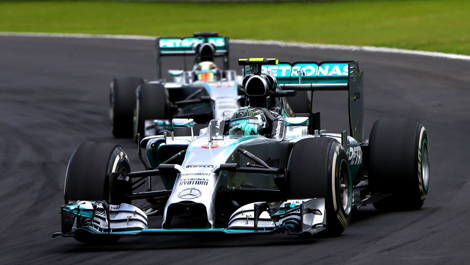 (Photo: WRI2)
Race results* - Brazilian Grand Prix (round 18 of 19)
1 - Nico Rosberg (Mercedes W05) - 71 laps 1.30'02"555
2 - Lewis Hamilton (Mercedes W05) - 1"457
3 - Felipe Massa (Williams FW36-Mercedes) - 41"031
4 - Jenson Button (McLaren MP4/29-Mercedes) - 48"658
5 - Sebastian Vettel (Red Bull RB10-Renault) - 51"420
6 - Fernando Alonso (Ferrari F14-T) - 1'01"906
7 - Kimi Raikkonen (Ferrari F14-T) - 1'03"730
8 - Nico Hulkenberg (Force India VJM07-Mercedes) - 1'03"934
9 - Kevin Magnussen (McLaren MP4/29-Mercedes) - 1'10"085
10 - Valtteri Bottas (Williams FW36-Mercedes) - 1 lap
11 - Daniil Kvyat (Toro Rosso STR9-Renault) - 1 lap
12 - Pastor Maldonado (Lotus E22-Renault) - 1 lap
13 - Jean-Eric Vergne (Toro Rosso STR9-Renault) - 1 lap
14 - Esteban Gutierrez (Sauber C33-Ferrari) - 1 lap
15 - Sergio Perez (Force India VJM07-Mercedes) - 1 lap
16 - Adrian Sutil (Sauber C33-Ferrari) - 1 lap
Fastest lap of the race: 1'15"203 by Nico Rosberg
Retirements
Romain Grosjean
Daniel Ricciardo
Drivers' championship
1.Hamilton 334; 2.Rosberg 317; 3.Ricciardo 214; 4.Vettel 159; 5.Alonso 157; 6.Bottas 156; 7.Button 106; 8.Massa 98; 9.Hulkenberg 80; 10.Magnussen 55; 11.Raikkonen 53; 12.Perez 47; 13.Vergne 22; 14.Grosjean, Kvyat 8; 16.Bianchi, Maldonado 2.
Constructors' championship
1.Mercedes 651; 2.Red Bull-Renault 373; 3.Williams-Mercedes 254; 4.Ferrari 210; 5.McLaren-Mercedes 161; 6.Force India-Mercedes 127; 7.Toro Rosso-Renault 30; 8. Lotus-Renault 10; 9.Marussia-Ferrari 2

*Unofficial results
No tags for this post.