F1: Pirelli asks teams to perform proper wet tire test
Jules Bianchi's terrible accident during last year's Grand Prix of Japan proved that Pirelli's Formula 1 rain tires needed to be improved.
The recommendations of the accident panel indicated that one annual test should be focused solely on wet running.
The Italian tire manufacturer has faced criticism from F1 drivers about its wet tires, but it is restricted in what it can do by severe limitations on testing.
Paul Hembery, Pirelli's motorsport director told
Autosport
his company was willing to hold a full-on wet tire test, but team support was lacking.
"It is in the regulations, but a water tank around Jerez is not exactly what we had in mind," said Hembery, in reference to the use of a tractor to water the track last year.
"We thought maybe Paul Ricard or going to Fiorano [Ferrari's private test facility] would be ideal.
"These are the only circuits where you can do something sensible but that opens up other discussions. We feel a proper wet session at the start of each season would be beneficial for everybody. We are happy to do it but it has to be done in the correct way," Hembery said.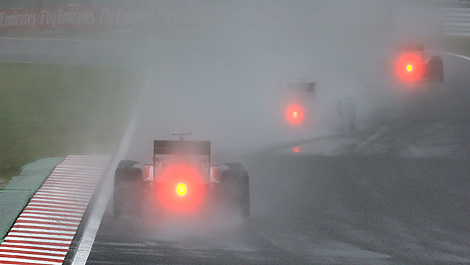 Formula 1 under the rain. (Photo: WRi2)
No tags for this post.