F1: Pirelli "expect a big jump in performance" in 2015
Pirelli boss Paul Hembery expects improvements in pace this season.
Since its arrival as a tire supplier in 2011, Pirelli has been asked to deliver races with two or three pitstops to increase the show.
After a controversial 2013 season, Pirelli was more conservative in 2014 to allow the teams to focus on the new power units and less on tires strategies. However Paul Hembery warns the situation will be different for the coming season.
"2012 was probably the most exciting with all the different winners - seven or eight winners - that was fascinating," Paul Hembery told
Crash.net
.
"This year, we did come in to a year of a little bit of unknown technology. We had a reasonable idea of what to expect but there's no substitute really for actually seeing what it translates to in track performance."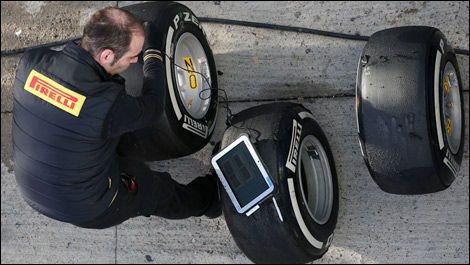 Pirelli engineer at work. (Photo: WRi2)
"If anything, probably next year if we took the same choices everywhere what was maybe conservative this year we feel might start becoming aggressive because the pace evolution for next year is going to be pretty dramatic. We've seen big improvements already towards the end of this season and that's without them really being able to get anywhere near the powertrain in the way they'd like to.
"So we expect quite a big jump again in performance next season. If you're talking a second or even up to two seconds a lap speed improvement that dramatically changes the way the tyres are used. So we have to be wary of that and follow that, but overall this year we feel we got the balance about right considering such a big change and the forefront technology this year was quite rightly the new hybrid powertrains which is a fascinating technology," added Pirelli motorsport director.
No tags for this post.