F1: Romain Grosjean explains the cars need a new driving style
The Lotus driver has a new approach for 2015 with a revamped driving style.
"The car and the regulations, a little bit, haven't suited my driving style," Romain Grosjean told
Autosport
.
"I had to change it at first to get on top of it, and the car was unpredictable when you drive it. I like to understand everything about the braking, turning and exit and then the next lap analyse and improve. Last year, one lap you got oversteer, lap two it's understeer and then maybe the next lap it's going to be good. You can't understand and analyse things, so you just have to go with the feeling, which Pastor did pretty well.
"So I have been improving myself in that aspect and I had to try different driving skills. As a driver, purely driving, I think I am able to do more things, but it didn't reflect in the results," added the Lotus driver.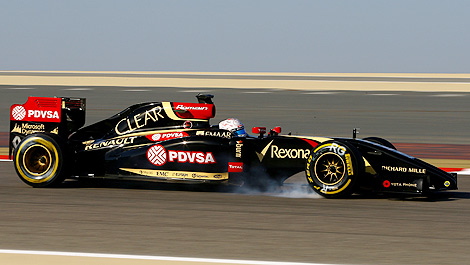 Romain Grosjean, Lotus E22-Renault. (Photo: WRi2)
The problem for Grosjean is the reduction in rear downforce combined with him getting onto the throttle as soon as possible.
"I like to go very early on the throttle, but this year it wasn't possible," he said.
"I had a little less feeling in the front end and I like to brake late and turn late, but this year it didn't work. It (exhaust blowing) would have made me more confident and I could push more, but things change. There were no blown exhausts in GP2 and they go quick, so I'm not worried.
"Once everything works consistently and everything is stable, I will produce quick lap times. That's something I have learned to do and will help for the future," to conclude Romain Grosjean.
Lotus has appointed Julien Simon-Chautemps as race engineer this season for Grosjean.
Simon-Chautemps worked with Pastor Maldonado last season and has previously been Kimi Raikkonen's performance engineer.
No tags for this post.