F1: Showers mean trickier race weather in Brazil
Weather specialists at UBIMET forecast high probability of rain showers during the entire Brazilian Grand Prix weekend.
"On Friday temperatures will increase to 32 degrees Celsius, and in this hot air mass thundery showers will develop across the region", predicts Formula 1 chief meteorologist Steffen Dietz.
A well-structured cold front will reach Interlagos on Saturday, bringing periods of thundery rain.
"After some early showers practice three is expected to stay mainly dry, however the track could be still wet at the start (11:00 local time)", says Dietz.
"During the Qualifying (14:00) drivers and teams will also have to contend with gusty winds and an increasing probability of rain. There also exists a high chance of intermittent heavy rain."
Sunday

A cold front will move very slowly northeast on Sunday and the air will stay very moist because of southerly to southeasterly winds.
"There is again an increased chance for wet conditions, but there is still some uncertainty about the intensity of the rain, " says Dietz, who adds that temperatures will also drop down from 26 degrees Celsius on Saturday to 21 on Sunday.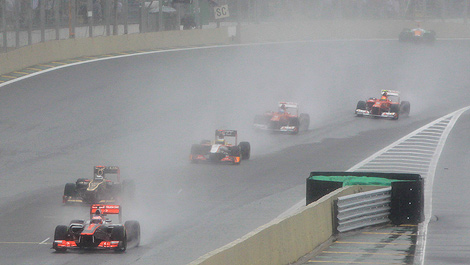 The 2012 wet Brazilian Grand Prix at Interlagos. (Photo: WRi2)
No tags for this post.