F1: Time is running out for Caterham
Caterham's administrators launched a 'crowdfunding' project last week in an attempt to raise enough money for the small team to compete in Abu Dhabi, but the campaign ends tomorrow Friday.
The team has reached 54% of the required 3.7$ millions required to send the two CT05s in Abu Dhabi with equipment and personnel.
Without an FIA super licence, British driver Alice Powell, 21, wanted to take part in Friday's free practice session.
However, her dream faded Thursday when the team's administrators told
Sportsmail
that they would sign two drivers for the full three days rather than take on someone extra for the practice sessions.
"We have had five people show real interest in driving," said Finnbar O'Connell, of administrators Smith & Williamson.
"Whichever two are picked will be involved in each practice session."
Another young British driver, Jolyon Palmer, son of former F1 driver Jonathan Palmer, is now a front-runner to race one of the Caterham-Renaults, according to one well-placed source.
Jolyon Palmer clinched the GP2 series' title last month.
Finnbar O'Connell also told
Sportsmail
: "I do believe we will be in Abu Dhabi", adding that "one individual and one group of investors have made contact about helping in the long term".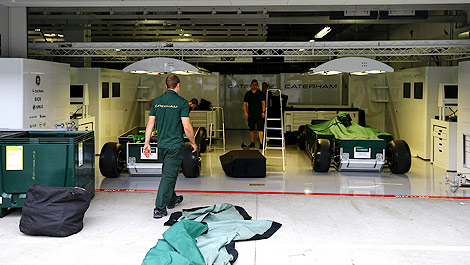 Will Caterham be in Abu Dhabi's garages? (Photo: WRi2)
No tags for this post.