Formula 4: Adrian Newey's son signs up for British championship
From GMM
Another Newey is plotting a course to the F1 grid.
16-year-old Harrison's father is Adrian Newey, widely acclaimed as one of the best technical minds in the history of formula one.
The 55-year-old is also a keen car collector and amateur racer, although his on-track exploits have often resulted in Ford GT and Jaguar E-Types being written off.
It appears young Harrison's pedigree may be better, as he has just signed up to contest the forthcoming British Formula 4 winter championship.
Media reports say the rookie, already an international kart racer, made his single-seater debut in French F4 last month, finishing a race in ninth place.
"It's going to be a big step up from karting," he said, "but I'm really looking forward to it."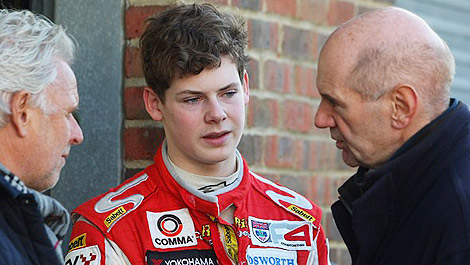 Harrison and Adrian Newey. (Photo: Formula4.com)
No tags for this post.