NASCAR Canadian Tire: Erica Thiering to contest full season in 2015
From press release
Canada's Best Racing Team announced Monday that it has signed Alberta late model standout Erica Thiering for the 2015 NASCAR Canadian Tire Series season.
Thiering, from Sherwood Park, has captured the NASCAR Whelen All-American Series provincial title in Alberta six of the past seven seasons from her home track Edmonton International Raceway, including the last four in a row.
The 24-year-old made her Canadian Tire Series debut in 2014 with five starts for Dave Jacombs Racing and posted an average finish of 12th with a best result of eighth at Ontario's Barrie Speedway. She was the top-finishing rookie in three of those five appearances.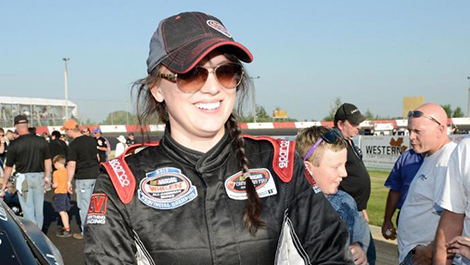 Erica Thiering (Photo: Getty Images fro NASCAR)
Thiering will run as a teammate to Joey McColm, who is coming off the best season of his career with CBRT with an eighth place finish in the final 2014 standings.
"This is an opportunity for me to continue improving as a racer, while striving for new achievements, such as rookie of the year," Thiering said.
"The 2015 season is going to be a wild ride and I can't wait to see all of my fans and supporters at the track!"
Thiering will open her pursuit of the Canadian Tire Series Rookie of the Year Award in the series' opener on May 17 at Canadian Tire Motorsport Park near Bowmanville, Ontario.
No tags for this post.