NASCAR: Denny Hamlin to lead the field at Phoenix International Raceway
From NASCAR.com
Needing an 11th-place finish or better in Sunday's Quicken Loans Race for Heroes 500 to secure one of four positions in the NASCAR Sprint Cup Series' title race, Denny Hamlin took a giant step toward that goal with a pole-winning effort on Friday at Phoenix International Raceway.
Hamlin covered the one-mile distance in 25.332 seconds (142.113 mph) to win his third Coors Light pole award of the season, his second at Phoenix and the 20th of his career.
The driver of the No. 11 Joe Gibbs Racing Toyota edged fellow Chase driver Brad Keselowski (142.079 mph) by .006 seconds for the top starting spot in the final race of the Chase for the NASCAR Sprint Cup's Eliminator Round.
With one of the best pit crews in the Sprint Cup garage, Hamlin will choose pit stall No. 1, closest to the exit from pit road and a considerable advantage at Phoenix.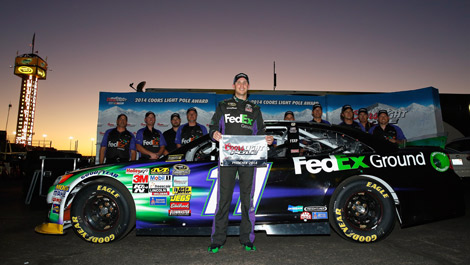 Photo: Tom Pennington/Getty Images
But even with the top starting spot and the best pit box, Hamlin doesn't think he'll be able to coast to the final race.
"I think the competition is just too close and tight to think that you're just going to coast to an 11th-place finish," Hamlin said.
"Nowadays, the difference between 11th and third and 20th is not that much, so you've got to go all-out on every single lap and fight for every position on restarts.
"So, really, from my standpoint, there is no backing into this thing and coasting our way to Homestead. We have to go out there and perform at a high level, or else we're not going to make it.
"There are too many cars that are too good for us to think that we're just going to ride around and take our spot."
No tags for this post.