Stay connected Subscribe to our RSS feed
Joey Logano used the good old slingshot to beat Kyle Busch to the checkered flag at the Aarons 312 Nationwide race at Talladega,
"Coming off turn four, I looked in the mirror and was like, 'Okay, I have a pretty good gap here.' Then I started thinking, 'Okay, when's the moment, when's the moment?' He (Busch) knew it was coming, he knew it was going to happen," said Logano.
"You're just a sitting duck when you're the leader -- Kyle was just a sitting duck."
Busch, who finished 0.034 seconds behind Logano's Toyota, agreed "you just know you're kind of a sitting duck. I just can't say enough about Joey and the guys at JGR (Joe Gibbs Racing). They pushed me to a win the last time here and gave me the chance to be in victory lane.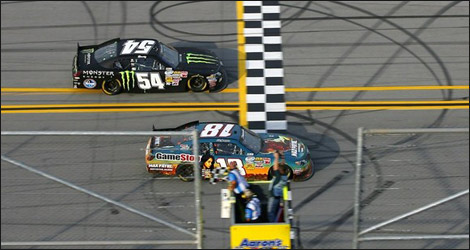 Photo finish (Photo: NASCAR.com)
"There's nothing I can do, it wasn't worth blocking and taking a chance of ending up in the fence or anything."
Ricky Stenhouse Junior's Ford passed Cole Witt's Chevrolet to take third place and gain the Nationwide Series points lead after Elliott Sadler had a lengthy pit stop for repairs and end up 10th.
The race finished after a second green white checker following a hard crash involving Eric McClure whose car slammed into the SAFER barrier on the inside of the main straight.
The race was red flagged for 19 minutes to extricate McClure from his damaged car. He was transported to the University of Alabama at Birmingham hospital.
"Eric is awake, alert and talking to family members. He is being kept overnight for further observation," according to a team spokesperson.
And there was more action after the race.
Danica Patrick and former Indy 500 winner, Sam Hornish Jr. were battling for 12th position at the checkered flag.
It appeared that Hornish forced Ms. Patrick high, slowing her down. After the start finish line Patrick took her car into Hornish forcing him into a minor crash. Neither were injured and NASCAR took no immediate further action.
Later Saturday evening, Steve O'Donnell, Vice President of Racing Operations at NASCAR, tweeted that NASCAR was not finished into inquiring about the incident.
"Not ignoring inquiries on 7 (Patrick), was busy with wreck post race. Will get updates to everyone."
No tags for this post.