Rally: Antoine L'Estage completes perfect season at Tall Pines
From CRC
Antoine L'Estage (St-Jean-sur-Richelieu, QC) and Alan Ockwell (Toronto) of the Yokohama Canada Rally Team culminated a flawless year with a final victory at the Rally of the Tall Pines, in Bancroft, Ont. The pair attacked from the very first competitive stage of the event, suffering no difficulties despite their fast pace.
"It's unbelievable, to win all the rallies in one year has never been done before," said L'Estage after the rally. "We've done it with a low budget this year, and stretched everything this year. Thank you to Yokohama who stepped in to help with this season. We wouldn't be here without them."
L'Estage clinched his seventh driver's championship when he won the 2014 series at the Pacific Forest Rally in October with two events yet remaining in the series calendar. Ockwell joined the team at the second event of the year and secured his third co-driver's national championship at the Rally of the Tall Pines as a result of the team's success.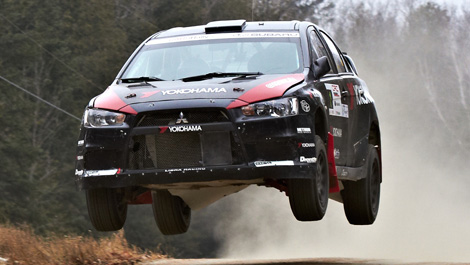 Antoine L'Estage won every round of the 2014 Canadian Rally Championship (Photo: Maciej Janiak)
Alexandre Béland (Val d'Or, Que.) and Philippe Poirier (St-Rédempteur, Que.) worked well together in their first event as a team, finishing second overall after one short test session prior to the rally. His car, a Subaru Impreza STI known as "the Beast," finished without any problems on rough roads that destroyed tires and parts of competitors' cars.
The father-son team of Sylvain and Simon Vincent (Terrebonne, Que.) finished in third, demonstrating the value of combining experience with speed and talent. The two have been campaigning with an older Subaru Impreza, showing that the car is still competitive in the right hands. The exacting conditions took a lot out of the 50-year-old Sylvain.
No tags for this post.