Rally: Nasser Al-Attiyah very close to second Dakar victory
After 9 days of racing, Qatari Nasser Al-Attiyah stands just one step away from his second Dakar rally victory.
Setting the pace on Day 9 was Nani Roma (MINI), taking his first stage win after a disastrous run at an event where he was a pre-rally favourite for victory.
Although Roma ended the day over six minutes clear of Al-Attiyah (MINI) in second place, the valuable time lost through mechanical problems on the first stage means he sits a lowly 25th overall.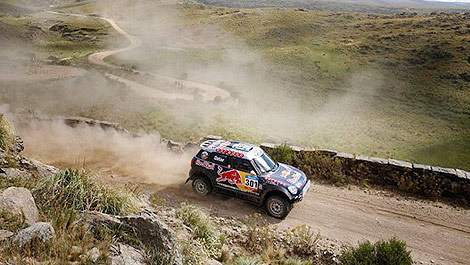 Nasser Al-Attiyah, MINI. (Photo: Dakar.com)
Vladimir Vasilyev made it a MINI sweep of the top three on the stage, followed by the Toyotas of De Villiers and Yazeed Al Rajhi, then two more MINIs driven by Krzysztof Holowczyc and Orlando Terranova.
South African Giniel De Villiers lost over quarter of an hour to Al-Attiyah on Stage 9 after a self-confessed "terrible, terrible navigational mistake" where the South African struggled to find a waypoint.
Overall standings (after Stage 9):

1. Nasser Al-Attiyah, MINI,  31h29.38
2. Giniel De Villiers, Toyota,  +23m58
3. Yazeed Al Rajhi, Toyota,  +39m29
4. Krzysztof Holowczyc, MINI,  +1h17m41
5. Erik Van Loon, MINI,  +2h41m46
No tags for this post.